Bill Nelson, administrator of the National Aeronautics and Space Administration (NASA), believes that China is working on a military space program to gain full control of the moon, without allowing anyone else to access it. .
During an interview with the German newspaper bildpublished on July 2, Nelson warned that China intends to build a lunar base in collaboration with Russia, in what would be a first step to "seize" the Earth's natural satellite.
We should be very concerned that China is going to land on the moon to say, 'Now it's ours. You stay out.
Nelson went on to state that "China's space program is a military space program" and that the Chinese space station is being used to learn "how to destroy other nations' satellites."
In addition, the senior NASA official lamented the alleged theft of technology by China and noted that the south pole of the moon is "highly disputed" due to possible water deposits that allow the production of rocket fuel.
Chinese is good. But China is also good because it steals ideas and technologies from others.
According to Nelson, by 2035, China will complete the construction of its own lunar station and launch several lunar missions, even acknowledging that the US space administration is "very concerned" about its plans to "hijack" the satellite.
For its part, China has dismissed claims that Beijing could take control of the moon as part of a military programme. Zhao Lijian, a spokesman for the Chinese Foreign Ministry, responded to Nelson's comments, calling them "irresponsible libel":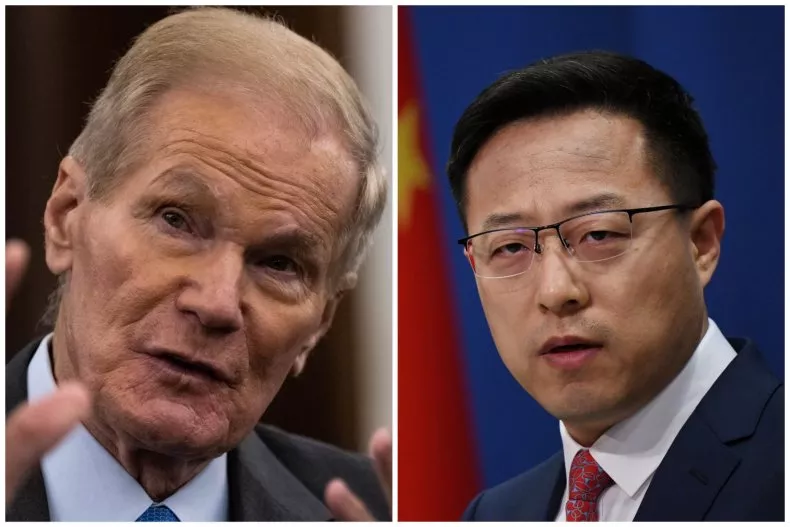 This is not the first time that the head of the US National Aeronautics and Space Administration ignores the facts and speaks irresponsibly about China. The US side has constantly built a smear campaign against our normal and reasonable space efforts. China firmly opposes such irresponsible remarks.
In recent years, China has accelerated the pace of its space program, focusing on satellite exploration. The first surface landing occurred in 2013 (an unmanned shuttle), but manned spacecraft are expected to touch down by the end of the decade.
According to newsweek, In April this year, the China National Space Administration (CNSA) Space Agency said it was entering a new phase of its lunar exploration program, which would involve the launch of three lunar probes before 2030 and a landing base. international research on the moon itself, which could begin with host teams during the 2030s.