The day has come, it's here: we wake up on the blackest Friday of the year with offers that tempt us at all hours. Knowing that the world of fashion is experiencing one of the strongest campaigns just a few weeks from ChristmasZara drives all her fans crazy with eye-catching discounts in a selection of their garments. Today we show you the 15 craziest deals of your Black Friday with discounts that reach 40%.
Black Friday 2022 at Zara: the essential tops in every wardrobe
There are pieces capable of accompanying us for years regardless of the passage of time. The sweatshirts are an example and this version oversized It is a good option to add to our collection. Perfect for fans of Los Angeles, its price goes from 39.95 euros to 23.97 euros.
Classic, timeless, simple and elegant, this strapless bodysuit wants to save us from any (stylistic) trouble. It is on sale for 13.77 euros compared to the initial 22.95 euros.
Black Friday 2022 at Zara: pants and skirts full of trends
One of the most viral trends this season comes in the form of cargo pants and parachutes. With these premises, this straight model with several pockets becomes a great investment. Its price? It goes from 29.95 euros to 17.97 euros.
In line with this aesthetic but in a long skirt version, we find this straight parachute-style version. With an original price of 29.95 euros, it can now be ours for 17.97 euros.
If what you are looking for is a wardrobe staple design that will dress you 365 days a year without going out of style, these straight black pants are the solution. While its initial price was 39.95 euros, it now costs 23.97 euros.
With satin finish and print tie dye, this skirt wants to conquer us completely. It costs 17.97 euros (compared to the initial 29.95 euros) and can help us achieve epic looks.
It is the time to think about the future and get clothes with a summer character. This printed skirt with details cut out is a good example and its price is 15.57 euros (it originally cost 25.95 euros).
Black Friday 2022 at Zara: the dresses that want to succeed this Christmas
With Christmas just around the corner, the time has come to get started. Think about what we're going to wear. If you are one of those who does not want to complicate much, this LBD has been created for you. While a few days ago it was for sale for 29.95 euros, now it can be ours for 17.97 euros.
If your inner self asks for something different and original. Paired with elegance, this mint green blazer-type cut-out dress bears your name. It costs 29.97 euros (compared to the original 49.95 euros).
Simple, classic, elegant and with a groundbreaking touch, this black midi dress has everything to be one of our favourites. your detail cut out in the waist area makes the big difference. Originally priced at 22.95 euros, it can now hang in our closet for 13.77 euros.
Black Friday 2022 at Zara: a coat for the Autumn-Winter season
Possibly one of the most desired pieces of Black Friday are the coats. A key piece in winter, the Spanish firm does not hesitate to tempt us with versatile versions, wardrobe staples and suitable for the coldest days. We have an example with this quilted down water repellant which goes from being worth 79.95 euros to 47.97 euros.
Whether it is to stand out with simplicity and elegance, to make a difference or to replace our threadbare coat from years ago. This short black wool coat with stud detailing in the same color adds genuineness to our day-to-day. From 129 euros to 77.40 euros.
Double-sided jackets are enjoying a certain privilege this season. Join the trend and do it for less. This camel-colored cropped version is on sale for 35.97 euros (compared to the initial 59.95 euros).
With the premises of less is more we find this padded jacket. With satin finish and water repellant, its simplicity makes it the best piece in the wardrobe. Its initial price was 49.95 euros, however with Black Friday it can be ours for 29.97 euros.
Long, with a lapel collar and a bathrobe-type belt, this fur coat has been designed for the coldest women who seek to splurge elegance regardless of the outside temperature. Compared to its initial 109 euros, this design is on sale for 65.40 euros.
More offers?
If after reading our selection of outstanding Black Friday offers you have not found what you were looking for, you may be interested in taking a look at the offers of:
As well as our colleagues compradiction: you can see all the bargains they publish in Twitter Y Facebookand even subscribe to their notices via Telegram.
if you make Amazon Primeyou have a 30-day free trial (after 49.90 euros per year) to enjoy free fast shipping, priority access to offers, services such as Prime Video, PrimeMusic and unlimited photo storage. Also, if you are a student, make Prime Student It costs 24.95 euros per year and you have a 90-day trial.
You can also try free for 30 days services like Kindle Unlimited either Audible.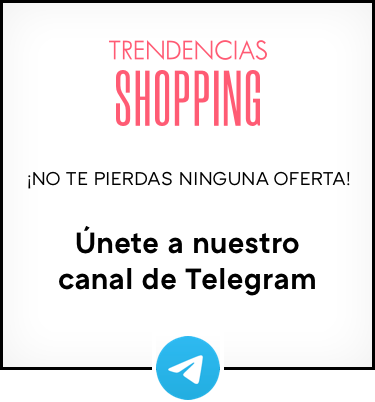 You can be up to date and at all times informed of the main offers and news of Trendencias Shopping in our channel Telegram or in our profiles instagram, Facebook and the magazine flip board.
Note: some of the links in this article are affiliated and may bring a benefit to Trendencias
Photos | zara